This year was sort of an emotional Christmas for me–and I know for others in our family, too. This is the first year in 33 years that my folks didn't have Christmas on the farm–30 years for me. It was the first Christmas in their new home, and we didn't let Covid get in the way of us being together. Eating–lots of eating–and drinking, the kids all playing, and exchanging gifts. This is what we needed to keep our sanity from this year of hell we've all been through.
Earlier this year Mom and Dad split off a few acres of the farm and sold off the buildings and the house. For anyone that lives in an old house, there is a lot work that goes into maintaining a home from the 1800s. Plus, they had acres of mowing to do and a barn and other buildings to maintain. It was time for them to move onto something newer and less upkeep. They sold the place to a younger couple with small kids. I actually went to school with the gal!
My siblings and I went in on a gift for our folks. One was a canvas of an aerial portrait of the farm. The portrait was taken with a drone right before the farm was sold. We also had a nice portrait of the whole family taken this summer and had that printed and framed for Mom and Dad.
My brother made our folks a really special gift. He took all of our old home movies and digitized them and burned them onto DVDs. We watched the first Christmas they had on the farm back in 1987–before my time. It was really fun to watch what the house used to look like when they first bought it. It was also sort of ironic that we were watching their first Christmas on the farm during their first Christmas in another new place.
There was video of Grandma and Grandpa Frederick at a Christmas get-together. That was especially emotional for me. Grandma Millie passed away in March 2002, and Grandpa Frederick left us on Christmas Day 2005. It's been long enough now where you forget what they sound like. I know that sounds silly, but to hear them talking sort of brought them back to life for a brief second–even if it was from a 33-year-old home video.
Eventually we made it to Christmas 1991 when I was just a young feller. I was ripping my gifts open and so curious. I followed my big brother and sister around as they wheeled their new bikes around in the house. A special moment was when I ran up to my Mom and Dad to give them a hug on their legs, and then they hoisted me up to give me a big hug. It is hard to fathom that was 29 years ago–where has the time gone?!
It was such a great day to be with family. Although it wasn't at my childhood home, it's the people you spend Christmas with that makes the memories. On our drive home we pass the farm on the corner of County Road B and State Road 73. It's hard not to be a little sad knowing that you can't go "home" again–especially after watching our old home videos. But it's great to see a Christmas tree lit up in house, the lights on, and people living there. It makes me feel better knowing that there is a family with young kids, just like my folks were 33 years ago, celebrating their first Christmas on that farm. Another family gets to spend many years there making their memories.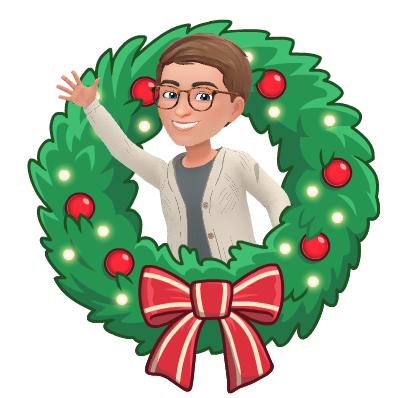 Merry Christmas to all of my readers!